SAFe for Architects (ARCH)
3 Days of Classroom Training
100% Assured Results
Insightful Study Material
Small Batch Size
SAFe for Architects (ARCH) Certification Training
Course
Date
Time(IST)
Time(EDT)
Cost(INR)
Cost(USD)
Trainer
Registration
SAFe 6.0 for Architects (ARCH) Online
19 June - 21 June 23'
12:30 PM- 8:30 PM
03:00 AM- 11:00 AM
₹158000&nbsp&nbsp₹119025
$1900&nbsp&nbsp$1500
-
SAFe for Architects (ARCH) Certification Training Overview:
Architects are an important part of the SAFe® leadership team, which also comprises product managers and the Release Train Engineer. These individuals collaborate to execute programmes and guide Agile Release Trains (ARTs) in order to ensure continuous value flow. You'll acquire the context you need to match architecture with business value in the SAFe® for Architects course. You'll learn how architectural solutions are delivered collaboratively by system, solution, and enterprise architects. You'll also learn the advice and tools you need to work effectively with distributed teams in remote locations.
Benefits of Getting Certified with the SAFe ARCH Certification:
Attendees can improve collaboration and alignment in a SAFe® Lean-Agile enterprise when they become a SAFe 6 Architect.
The SAFe® for Architects course prepares System, Solution, and Enterprise Architects to engage across the organization as effective leaders and change agents who collaboratively deliver architectural solutions.

Requirements:

Attend SAFe Training Course by our expert and handson SAFe Trainer.
Upon passing the Certification Exam, accept your SAFe License Agreement and complete your SAFe membership Profile.

How Agilewaters helps you:

We help you with the FREE Mock Test with consulting and guidance by our expert.

FAQs

How to plan for and execute a program increment (PI)?
How to create clarity and visibility into the architectural vision for an ART?
How to plan the architectural runway to consistently deliver business value?

At AgileWaters, we have a team of experienced trainers where each one of them has more than 20+ years of experience on the working and guiding principles of Scrum, Kanban, DevOps, SAFe etc. They provide the best of what we say as theoretical guidance and then about how to implement the fundamentals of Scrum and SAFe in the work process.
At AgileWaters, we provide support for post-work implementation. This helps the learners to exactly know how to implement the function and methods of Scrum and SAFe into the work-process and deliver a quality solution to the enterprise
AgileWaters has combined agile experience of more than 50 years, which means our trainers will drive you through every role Scrum and SAFe has played and how it has evolved with time.
Our Trainers at AgileWaters provide Real-life case studies to know the in-depth and thorough approach of Scrum and SAFe Framework and its working process.
We at Agile Waters provide FREE SAFe Mock Tests so you can analyse and evaluate your preparation scenario for the SAFe for Architects Certification Exam.
AgileWaters provides a holistic view to Scrum and SAFe Framework which means we believe in inter-connecting all the things which are related to Scrum and SAFe Framework to deliver the exact concept and principles of both the Framework.
We also provide additional FREE Certified Courses

SAFe for Architecture (ARCH) Certification Exam is already added in the Course when you take it from AgileWaters. At first, we will provide you with training and workshops. Afterwards, we will take you through both the theoretical and practical approach with the perspective of the exam. Many mock papers will also be provided so that you have a good preparation scenario to clear the exam with ease.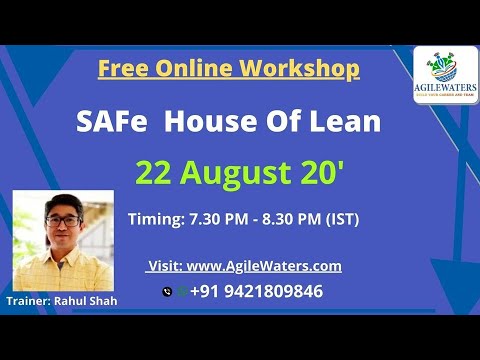 SAFe Quiz
The SAFe Certification Mock Test tool helps you to assess your preparation for the SAFe certification exams as well as gives you an idea about the relevant questions to be asked in the exam.
Take Test
Upcoming Online Classes: